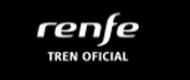 Travel with Renfe, our official sponsor, and enjoy a 20% discount on your exhibition tickets with your AVE/Long-distance ticket.
Promotion valid at both the exhibition ticket office and online by adding the code RENFEKLIMT.
The offer will be valid 72 hours before the departure and 72 hours after the arrival
of the train.
In addition, at our official merchandise store, you can enjoy a 10% discount on your purchases both in-store and online by applying the code RENFEKLIMT.